First Speakers of Codemotion Berlin 2018 announced!
This November Codemotion comes back to Berlin for the fifth time bringing to the capital of Germany more than 60 international speakers that will take you on a step-by-step journey through every topic about software development.
Meet the first Speakers of Codemotion Berlin 2018
We have been working really hard to choose the best possible speakers covering the hottest tech topics and today we would like to share with you the first confirmed names.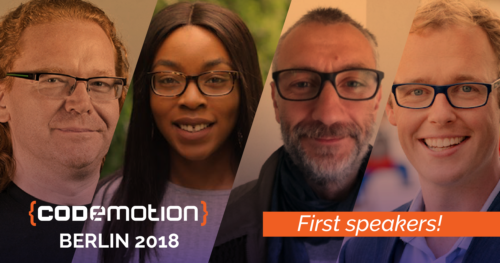 Here's a bit of background on each of them:
Daniel Gebler is CTO of Picnic, the world's fastest growing online supermarket that makes grocery shopping simple, fun, and affordable for everyone. Previously, he was Director R&D of Fredhopper, responsible for the product and technology roadmap, and led engineering teams located in Amsterdam and Sofia
Christian Heilmann (Microsoft)
Chris Heilmann dedicated the last 20 years of his life to make the web work and thrive. He dedicated most of his time since on educating, writing and sharing, presenting on average at 30 conferences a year. He strives to make code and coders work efficiently and get more done quickly without losing the understanding of what we do. He is the author of several JavaScript books and the Developer Evangelism handbook.
Tara Ojo is a software engineer at FutureLearn. She's also a STEM ambassador, keen to encourage and inspire young people from diverse backgrounds to consider careers in tech.
Cristiano Rastelli (Badoo)
Cristiano Rastelli is a passionate web designer & developer, currently he working as a Mobile Web Developer at Badoo. He is not only an attendee but also a speaker and organiser of technical conferences and meetups.
Blind Tickets are on sale now
This is just the beginning – there are more exciting news to come and interesting guests to look forward to. So you'd better secure your seat now to ensure you'll catch these superstars speaking in Berlin, this November.
Would you like to become a Speaker? Call for paper is open
If you're interested in joining us as a Speaker, submit your proposal now. The application deadline is July 3rd.
We're looking forward to seeing you in Berlin!
Back to news list